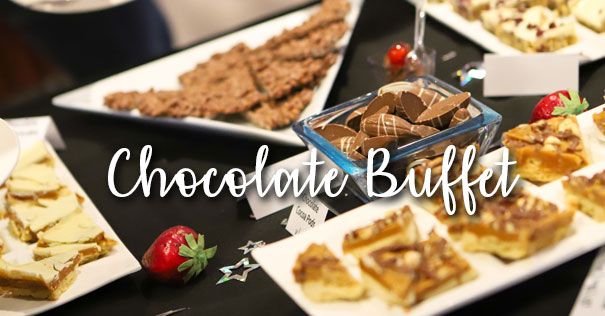 The Ultimate Chocolate Buffet
---
What's Included in Our Chocolate Buffet?...
Our buffets are held on Sundays, with two sittings available at 12:30pm and 3pm, click here for a list of dates.
Choose from a wide selection of chocolate delights. The chocolate stations will showcase different flavours, from white to dark chocolate and everything in between, including chocolate trifles, chocolate mousses, chocolate pancakes, chocolate waffles and chocolate fountains. For a little extra why not add some delicious drinks to the party? With either a luxury hot chocolate, a cheeky chocolate cocktail or a bottle of our special Cava. Other alcoholic and soft drinks will be available from the bar.
Our Chocolate Buffets have been devised by Bournemouth entrepreneur, hotelier and chocolatier, Gerry Wilton. Gerry's knowledge and passion for chocolate is second-to-none and has seen the successful business man leading the way over the years as the UK's first supplier of chocolate fountains, entertaining thousands of guests on prestigious cruise ships across the world in his role as a 'chocolate educator' and in 2007 opening the world's very first chocolate themed hotel – The Chocolate Boutique Hotel and then in 2016 The Chocolate Box Hotel.
"A Chocolate Buffet would make the perfect Valentine treat for your loved one, a great excuse for a girl's lunch or an inspired birthday or anniversary gift."
Summary
Choose from a wide selection of wonderful chocolate delights.
Two sittings available, 12.30pm and 3pm, on the dates advertised.
Located in Bournemouth town centre at the Klikaway Hotel.
£22.95 per person (£10.95 under 10yrs).
Drinks such as hot chocolate, chocolate cocktails and cava are available on the day, from £3.95.
Advanced booking essential - please call 01202 298024
Book online now
Chocolate Buffet Gallery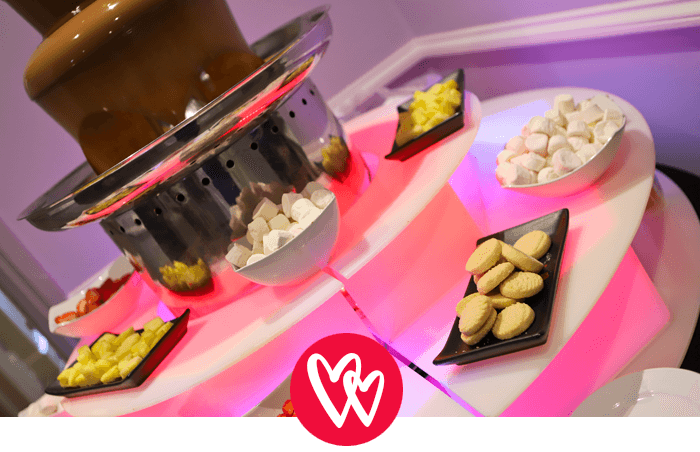 What Our Customers Say...
"The chocolate was delicious. There was a chocolate fountain as well as a Chef serving hot crepes and waffles. There was also a hot chocolate station. Definitely an event for any chocoholics out there! All the chocolate was handmade which really impressed us. All the waiting staff were attentive and professional and in particular we thought Gerry and Roo were so friendly and engaging. We had a lovely time and thank you so much for having us."
---
Sophie, Chocolate Buffet Guest